5G networks started to go live worldwide in 2019. As the hype continues to build, it is good to review what such a network is, and what such systems, in terms of technological innovations and social changes, have brought us in the past.
From a high viewpoint, one can say that 5G is the fifth generation of a communications network whose end users are exchanging data wirelessly over radio waves.
Research and development of such systems are done by networking and telecommunications companies such as Ericsson and Huawei. They sell them to ISPs (Internet Service Providers) like Verizon or T-Mobile, who manage them and sell access to us as end-users. It is then up to us to give value by developing applications and usages that exploit the new technical capabilities.
History of the technology
Since this is the fifth generation, we can see in retrospect what previous four generations have brought: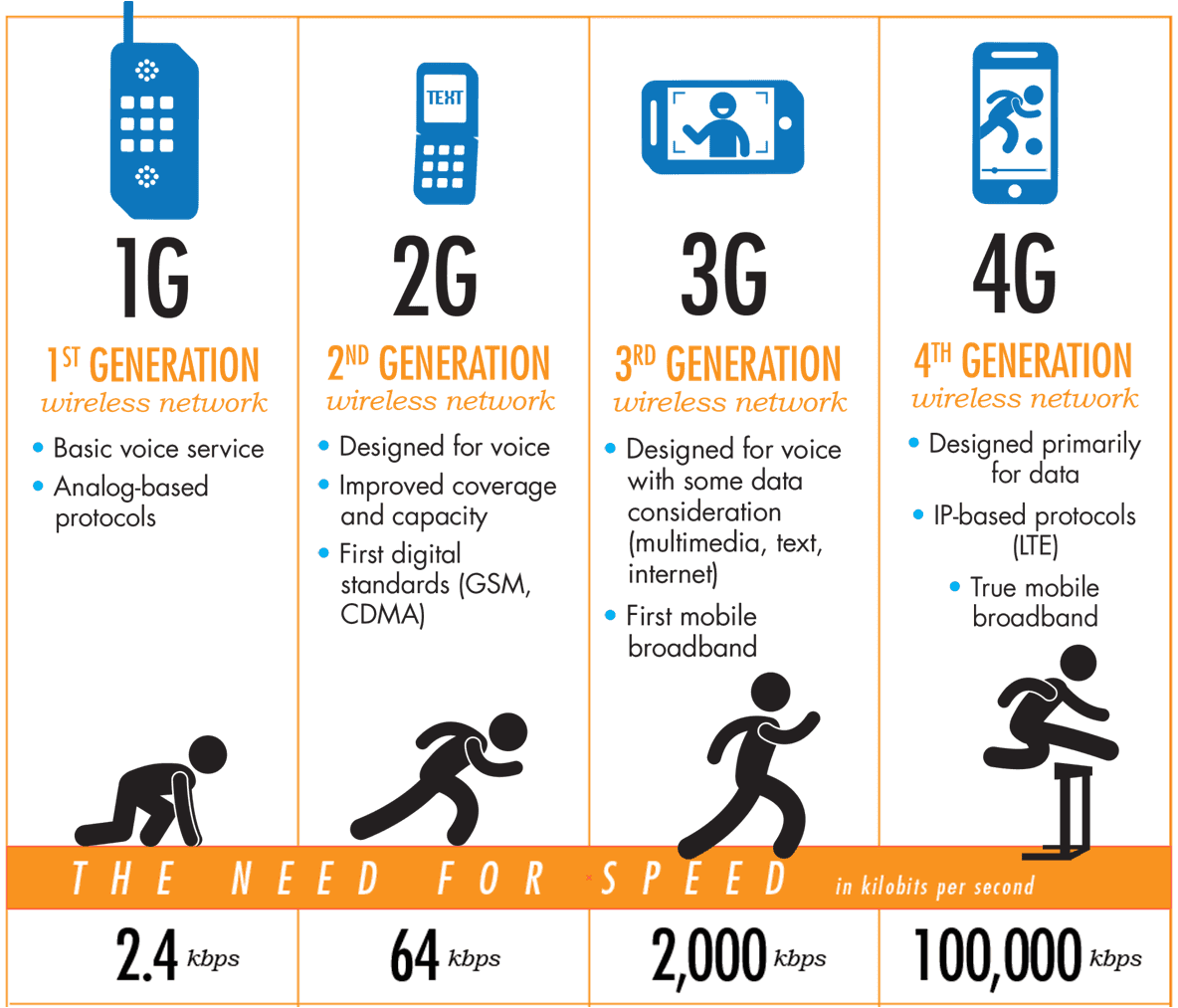 1G is an analog network introduced in the 1980s that enabled us to perform the first mobile voice calls (AMPS/NMT)
2G is the first digital generation that in 1991 gave us SMS, MMS, and digitally-encrypted communication, i.e. GMS, and later enabled packet traffic with GPRS/EDGE
3G went live in 2001 and provided us with mobile internet access, video calls, and mobile TV technologies
4G came along in 2009 and gave exponential traffic growth, reduced latencies and enhanced performance access to many devices such as smartphones, wireless modems, and laptops and thus enabled things like high-definition mobile TV and cloud computing
Think of companies and services that build their systems and products on mobile internet access, cloud computing, or have video as a part of their core. One can also infer social changes such technologies have brought – from the ability to make a voice call in your car to the now expected ability to stream HD video.
How 5G infers with current and new technologies.
Several new and existing technologies can benefit from 5G bringing lower latencies, reduced energy demands, and faster speeds.
Fixed Wireless Access (FWA): How 5G connects the whole world.
Up to 50% of the world population still has no reliable access to broadband internet. The cost and complexity of providing fixed broadband have always been deterring the reach of high-speed data services to suburban and rural areas. 5G presents a viable alternative to laying fiber, cable, and DSL cables into those areas. For instance, many small businesses in rural areas currently do not benefit from broadband data access and the new infrastructure will provide new opportunities for them. Operators that offer FWA still have a large untapped market which they can sell to.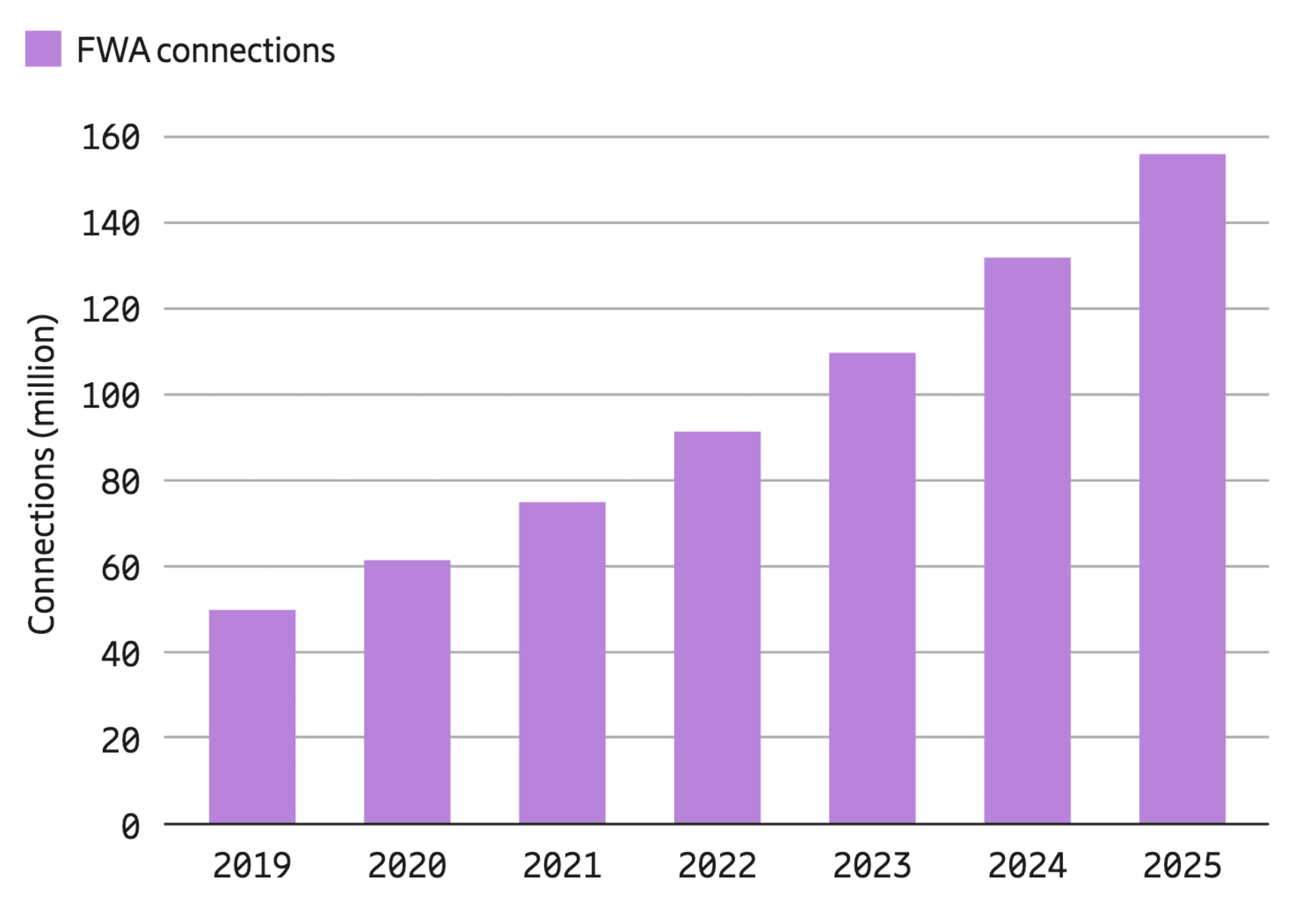 Extended Reality (XR): How 5G will socialize our digital world.
Extended reality is a concept that encompasses AR (Augmented Reality), VR (Virtual Reality), and Mixed Reality (MR). It's gaining momentum but still fails to deliver its full potential as it struggles to achieve the interconnected world's ambition. It is hard to create headsets or a wearable with enough processing power and low energy consumption to meet our expectations. 5G is here to give this concept a second wind.
With 5G, lower latencies, and higher speeds, we are presented with opportunities for real-time analysis of videos in fields of alerts and object detection in suburban and rural areas.
Wearable devices will integrate more into our lives as more extensive information can be then sent from user devices to the cloud for processing. For instance, a device might have extensive sensors and cameras whose data and feeds get processed in the cloud with practically real-time latencies. This will enable us to create immersive and new virtual worlds that will allow us to socialize in a new way.
eHealth: How 5G could make us healthier
It's nice to get visual telemetry on your smart device about a product or get assisted guidance about tourists' surroundings. However, we will be able to do much more. One relevant field that can benefit from 5G is medicine.
eHealth is one of the priorities set in the European Digital Agenda, because healthcare costs as a percentage of GDP continue to outperform the average economic growth. Such services' digitalization is driving the shift from hospital-based systems to those that are distributed and patient-centered which optimize healthcare decision making:
delivery of health information
supporting mobile devices like smartphones and wearables (eg. Happymed)
medical robotics
monitoring devices
From reliable telesurgery to medicine-centric wearables that communicate with intelligence in the cloud, healthcare needs to transform to keep up with aging populations, and 5G offers technical capabilities to do so.
Machine2Machine (M2M) and Internet of Things (IoT): How 5G will bring real-time to the next level.
Applications in the fields of M2M and IoT (Internet of Things) and remote machine control today are limited by the latencies that cumulatively build up with the number of devices. At the moment, those applications mostly exist on 2G and 3G networks and are not latency and data-heavy. They perform simple telemetry on a relatively small number of connected devices such as sensors. With 5G, we might expect a rise in a number of devices and the amount of data they transmit and receive.
Most machines like processing robots, cameras, and sensors have intelligence that governs them and processes the data locally to them. With 5G, they will be able to connect en-masse to the intelligence in the cloud with real-time latencies. For instance, sending a video feed for vision processing or enabling remote control in real-time.
What 5G brings along.
Like each previous generation, 5G is expected to bring new applications and transform our lives in the years to come. Both private companies and public institutions that find plausible claims to applications will come to dominate fields and services that don't yet exist or are limited by the current fourth-generation but might become commonplace in years to come.
It might be hard to pinpoint the exact usages and trends for 5G but by analyzing previous trends with hard numbers we can always try to extrapolate into the future.
We can look at the number of wireless devices subscriptions per generation worldwide with a forecast to 2023: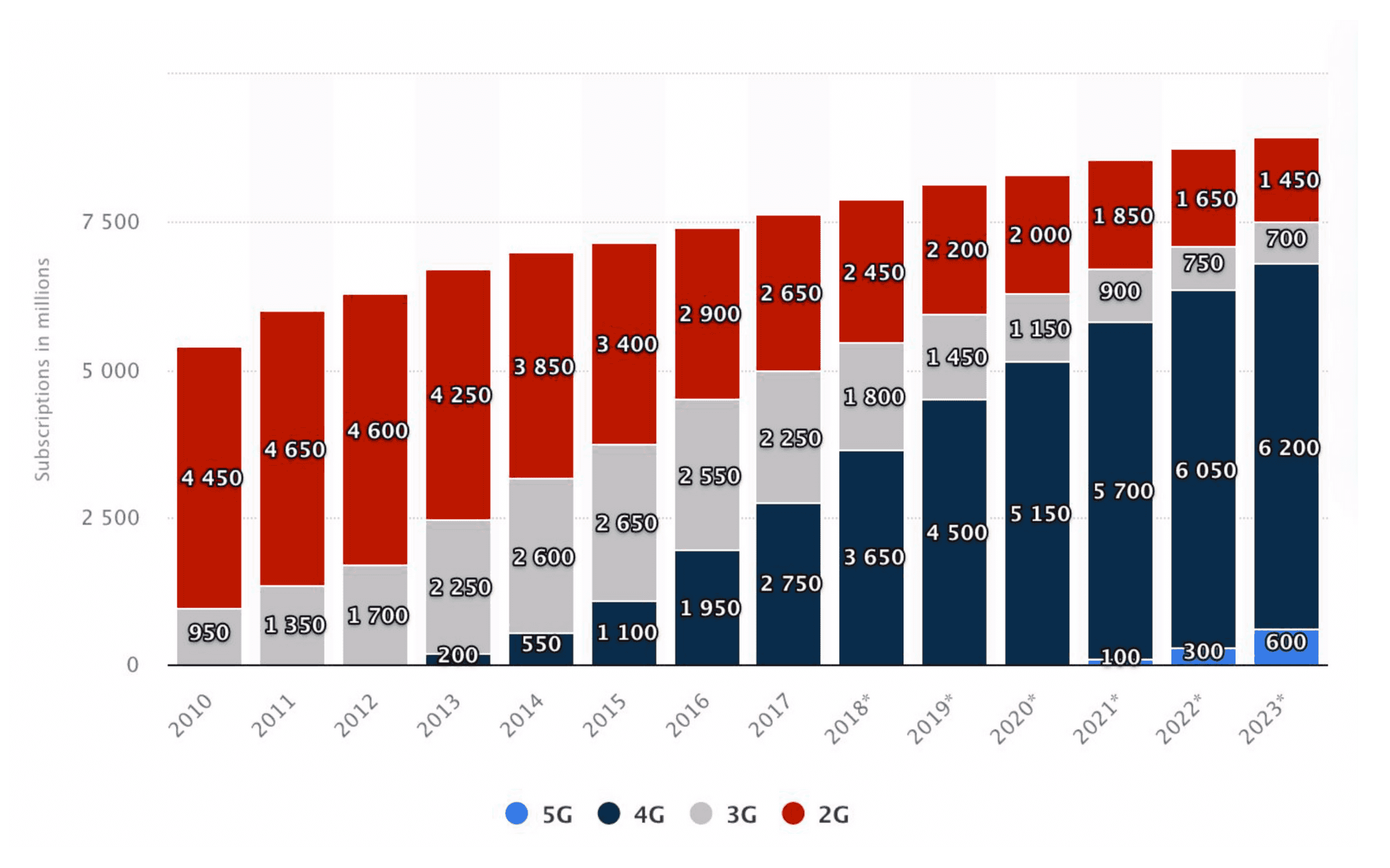 WWe see that it takes some time for technology to reach its full potential and saturate the market. The same trend can be expected to happen to 5G. 4G will continue to grow for years to come until 5G penetrates enough of the market that phases it out. This occurs when the users are ready to pay more for the next generation once the previous one cannot satisfy their requirements.
The number of 5G subscribers is forecasted to be 2.8 billion worldwide.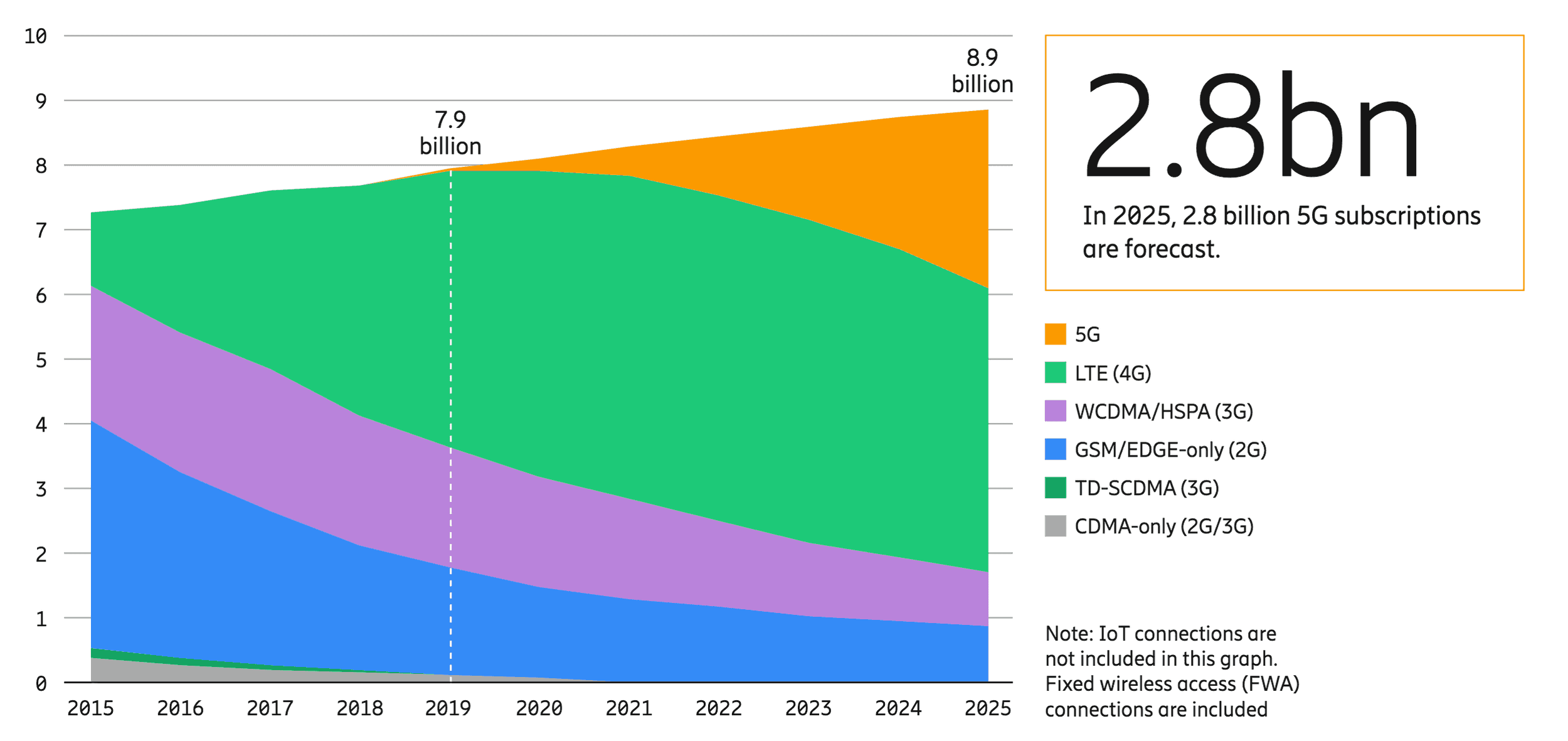 Conclusion
With all these possibilities, we can expect professional and private lives to transform in the years to come into a more connected and immersive environment. Consequently, new businesses will open, invent 5G-related products and blow our mind.
Sources: Cover picture by Jack Sloop